Please join us for SLAVIC GLITCH - an exhibition, performance and party, the result of a two-week workshop aimed at working with specifically Slavic aesthetics, ideas and references in developing existing or new digital environments.
On Friday, November 17, 2023, from 2:30 - 5:30 pm, drop by Building C, Room C5 (arrows will help you get there).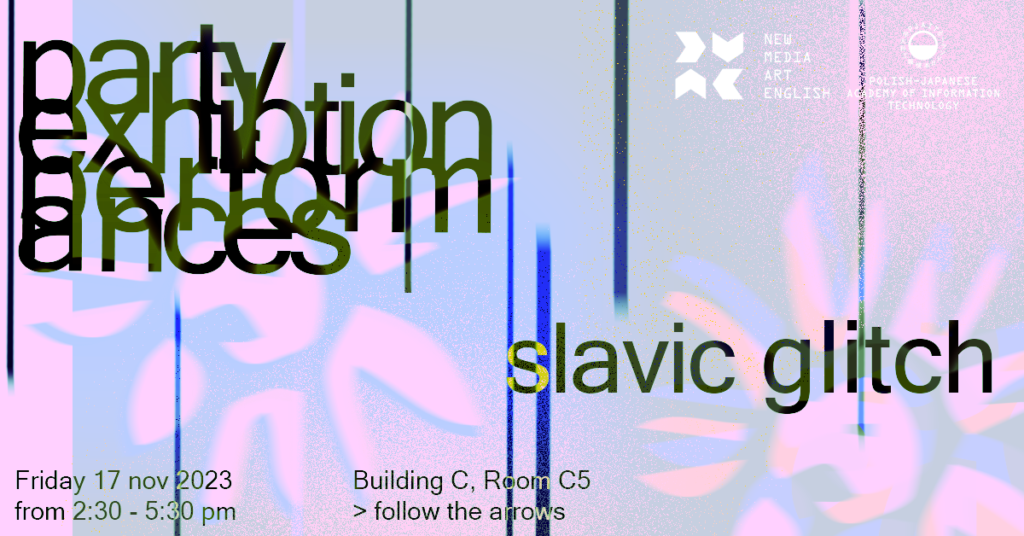 ---
What was the idea behind the workshop?
The idea was to propose an alternative to Western domination in the design of digital environments and to use formal, symbolic and metaphorical elements from Central/Eastern European cultural heritage in this creative process, inventing new or "glitching" current virtual spaces as we know them with a Slavic touch. The fundamental question behind these experiments is how local culture can continue to visually and functionally manifest and develop with its own unique look and feel and identity in globalized, generic, homogeneous digital / online spaces.
During the workshop, students worked with various digital tools to create websites, apps or games, AR / VR, creative coding and 3D animation.
The workshop was led by Pavel Pokutycki and Sonia Górecka. Participating students: Adi Ahrba, Ksenyia Brynkevich, Maria Domińczak, Arin Gorgulu, Lizaveta Kasinskaya, Yana Karastasiliova, Veronika Kazak, Bartosz Kolodziej, Oleksandra Olenchenko, Varvara Paplauskaya, Agata Pietras, Daryia Rastapchuk, Oleksandra Shevchuk.
---
See other news
About calligraphic VR performance by Monika Marek-Lucka and Brody Neunschwander in Eye magazine

Announcement of the results of the by-elections to the Faculty Student Government Councils

Director! Teacher! Parent, Student! Submit your school for away demonstration lessons PJAIT