Hej, kandydatko/kandydacie!

Szukasz uczelni, która pozwoli Ci się rozwinąć, a ponadto zadba o Twoją przyszłość?

Właśnie ją znalazłaś/łeś!

Polsko-Japońska Akademia Technik Komputerowych to odpowiedź na Twoje zarówno technologiczne, jak i artystyczne potrzeby. Jesteśmy najlepszą uczelnią niepubliczną o profilu informatycznym w Polsce, ale kształcimy także przyszłych managerów IT, grafików, architektów i kulturoznawców.

Zainteresowana/y? Masz pytania?
Możesz nas lepiej poznać na najbliższym Dniu Otwartym PJATK!

KIEDY?
29 maja w godzinach 13:00-18:00.
GDZIE?
Kampus Główny PJATK przy ulicy Koszykowej 86 w Warszawie.
Don't hesitate any longer! #GiveMyselfRecognition and study with us at PJAIT!
Szczegółowy harmonogram wydarzenia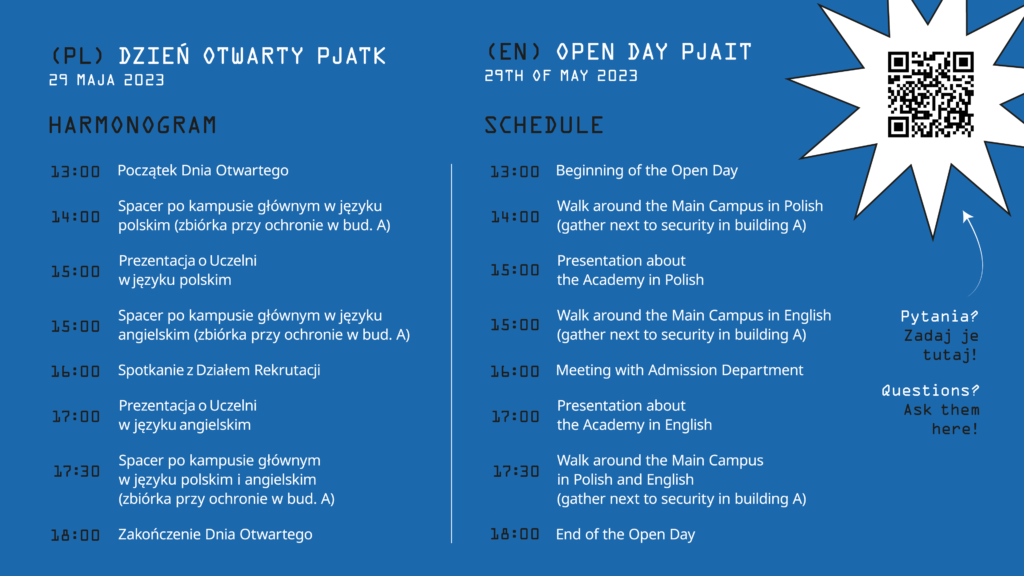 ---
See other news
Zapraszamy na wykład Carol Wahler "Type Directors Club – introduction to the 76-year history of excellence in typography"

Zapraszamy na bezpłatne szkolenie "Bezpieczne dzieci w sieci"

PJATK na 26. Pikniku Naukowym